Program Description
The Summer Study Abroad in Montepulciano, Italy, allow students the opportunity to live and study in historic and scenic Tuscany, while completing six hours credit from a wide range of courses in the Humanities, Social Sciences, Natural Sciences, and Fine Arts. Throughout the four-week program, students live in historic apartments scattered throughout one of Italy's most-scenic Tuscan hill towns. In addition to classroom activities and lectures, students take eight field trips to various locations throughout Italy, including Rome, Florence, the Vatican City, Siena, Assisi, and Pisa. Using many of these destinations as a point of departure, students spend their three day weekends in Pompei, Sorrento, Cinque Terre, Venice, and Milan.
Kennesaw State University has overseen this study abroad program, a consortium among Georgia College & State university, Georgia Southern University and Kennesaw State University, since 2000.
PowerPoint & Photos from previous years:
Montepulciano PowerPoint.pdf
Program Dates
May 15 - June 15, 2014 (these dates are subject to slight change)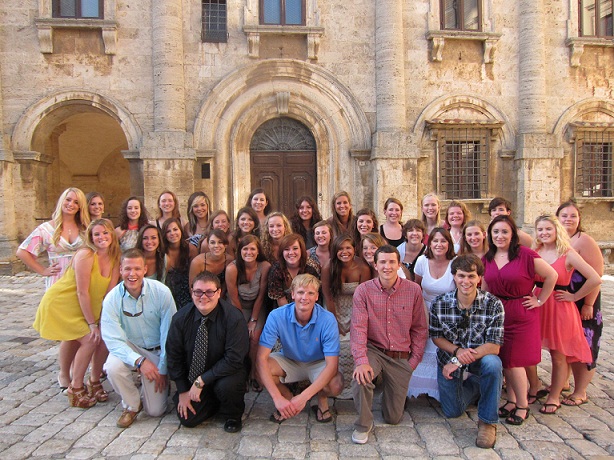 Program Cost
$4,800.00
Cost includes airfare, housing, four dinners per week, program-related field trips including all admissions/museum entry fees and emergency health insurance.
Estimated Cost Form.pdf
***
Tuition is not included in the program cost. Tuition is paid separately.
***
***Please note that program fees paid with a credit card are subject to a service fee. This service fee is controlled by the Bursar at Kennesaw State University and is not part of the total program fee. If you would like to avoid this fee, you can pay by web check.***
A $300 non-refundable deposit is due at the time of application. This deposit will be subtracted from your total fee. Payments are broken down into two installments.
1st installment of $2,250.00 is due March 1st
2nd installment of $2,250.00 is due March 15th.
For information about scholarships available for this program please visit our website
Housing
Students will reside in shared apartments. A typical apartment has two double rooms, one bathroom and kitchen facilities.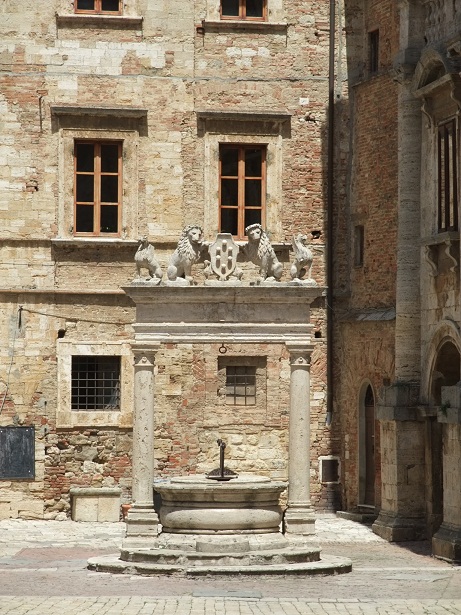 Courses
Students
MUST
take TWO 3 credit hour courses, for a total of 6 credit hours. All courses are offered at the undergraduate level and students from the three participating universities will be registered for courses at their home institution. See below for course listings and descriptions.
You will select ONE of the following morning courses that will meet from 9:00 - 11:30 AM on Mondays and Wednesdays. Morning courses reserve Tuesdays for all-day field trips.
Understanding Visual Art - 3 credit hours
Instructor: Emily Gomez, GCSU
(KSU: ART 2290, GCSU: ARTS 1105, GSU: ART 1000, VSU: ARTH 3120)
Understanding Visual Art in Italy serves as an introduction to art history and art practice with Italy as the student's classroom and muse. Class time will consist of lectures and discussions focused on art history, art making, and the basics of artistic design, which will lead to a deeper understanding of the visual art we will see on field trips to the Siena, Florence, Rome, Assisi and Montepulciano. Students will put their design and art history studies to practice by creating visual art with digital cameras.
An Introduction to World History I - 3 credit hours
Instructor: Alan LeBaron, KSU
(KSU: HIST 1110, GCSU: HIST 1131, GSU: HIST 1111, VSU: HIST 1101)
This class will examine the birth of civilizations, and follow major themes of humanity up to the modern era. Given the special nature of study abroad in Italy; some special emphasis will be placed on Italy's role in world history, as an example of historical themes , patterns and connections which give insight into the global world. The central class theme will be: What have been the global connections that have long tied the people of the earth together? Other major themes will be: Rise and Fall of Centers of Power and Wealth; Daily life of the people as seen through art and artifacts; and Definitions of civilization and Western Civilization.
Writing Italian Feminism - 3 credit hours
Instructor: Letizia Guglielmo, KSU
(KSU: ENGL 3330, GCSU: ENGL 4955/WMST 4950, GSU: ENGL 5090, VSU: ENGL 3300/3330)
A study of literature using gender as the primary category of analysis. Viewing gender as a social construction, we will consider literature's exploration of such issues as gendered roles in society, interactions between private and public life, gender's relation to canon formation, and the ways in which individuals may struggle to define their place in culture in the face of gendered expectations. We will read the work of Italian noblewomen, nuns, and courtesans, among others, investigating their work as feminist rhetoricians who interrogate ideological constructions of gender while operating within the political and social environments of their day. Moving from Renaissance humanism to modern Italian feminism, our readings will allow us to explore definitions of feminism grounded within cultural and historical moments.
Global Sustainability - 3 credit hours
Instructor: Lissa Leege, GSU
(KSU: BIOL 4490/GEOG 3710, GCSU: BIOL4740/GEOG 4740, GSU: BIOL 3099, VSU: BIOL 4020)
In a world where the human population has surpassed 7 billion and natural resources are in high demand, sustainability must be the way of the future. Sustainable practice meets the needs of the present without compromising the ability of future generations to meet their own needs. This course will examine practices and policies of sustainability around the globe: with particular focus on the European Union and the US. We will evaluate agricultural practices, energy use, water, biodiversity conservation and urban design/sustainable architecture in Rome.
You will select ONE of the following afternoon courses that will meet from 1:00 - 3:30 PM on Mondays and Wednesdays. Afternoon courses reserve Thursdays for all-day field trips.
Digital Photography in Italy - 3 credit hours
Instructor: Emily Gomez, GCSU
(KSU: ART 4490, GCSU: ARTS 3240, GSU: ART 4950, VSU: ART 4180)
This course will focus on digitally documenting your experiences in Italy. Classes will include lectures and discussions on the use of digital cameras, as well as the work of past and present artists. We will discuss technical aspects of camera use, as well as how to make successful fine art photographs. Field trips to photograph in Montepulciano, Rome, Florence, and Siena will also be a component of the course. On field trip days, we will visit photography exhibitions and related art museums whenever possible.
Making of the Modern Mediterranean - 3 credit hours
Instructor: Alan LeBaron, KSU
(KSU: HIST 4490, GCSU: HIST 4950, GSU: HIST 3030. VSU: HIST 3090)
From the 1453 fall of Constantinople, through to the contemporary world, the "Making of the Modern Mediterranean" will examine major historic topics such as the Battle of Lepanto, "Barbary Piracy", colonial conquests, anti-colonial nationalism, and decolonization. Some special focus will be given to Italy's connections to the Mediterranean. The Sea has been a geographical and historical region that has connected cultures, religions, politics, ecologies, and economics; in addition the Sea has long been linked to the wider global world of Asia and Africa, and eventually the Americas. This class will examine global connections that led to the contemporary globalized world, while using extensive art and artifacts to examine how daily life around the Sea changed over time in reaction to both local and global forces.
World Literature: The Italian Masters - 3 credit hours
Instructor: Letizia Guglielmo, KSU
(KSU: ENGL 2120, GCSU: ENGL 2110, GSU: ENGL 2111, VSU: ENGL 2111)
Students will study the human experience through literature by examining diverse aesthetic and cultural perspectives from ancient to modern times. Course readings will include works by major Italian authors, including Dante, Boccaccio, and Pirandello, among others, inviting us to explore historical, political, and social influences on the writers and how these classic works have shaped and inspired literature around the world. Through reading, discussion, and field trips, we will discover what these works tell us about our values, our world, and the human condition as well as the land and people that inspired them.
Plants and Civilization - 3 credit hours
Instructor: Lissa Leege, GSU
(KSU: SCI 1102, GCSU: BIOL 2950, GSU: BIOL 1335/3099, VSU: PERS 2490)
Human civilization depends on plants form the paper we write on to the food we eat to the very air we breathe. Experience the interconnections between plants and civilization in the bustling market, vineyards and olive groves, all the way to the art and architecture in Rome. We will learn some basic botany and then explore the role of plants in medicine, stimulating and intoxicating beverages, building materials, and in the landscape, as well as in the pasta we eat.
NOTE
: All undergraduate students must have and maintain at least a 2.0 GPA to be eligible for this program. If taking this course for graduate credit, students must have and maintain at least a 3.0 GPA to be eligible
Application Deadline
Applications are due
February 1, 2014
A $300 application fee is due at the time of application. Please note: you will
NOT
be considered for this program until you have paid this deposit!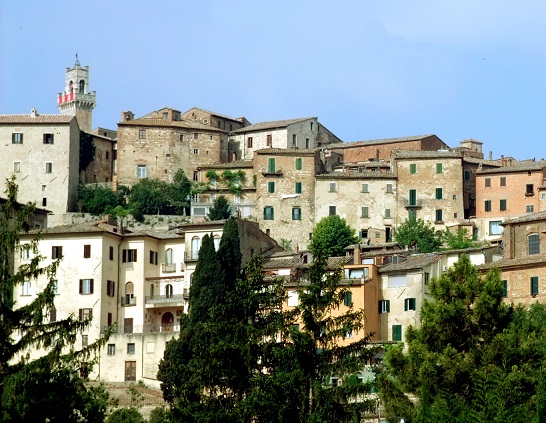 Faculty Contact Information
Program Director: Rich Pacelle
rpacelle@georgiasouthern.edu
Ph: 912-478-5765
Instructor: Alan LeBaron, KSU
alebaron@kennesaw.edu
Ph: 770-423-6589
Instructor: Emily Gomez, GCSU
emily.gomez@gcsu.edu
Ph: 478-445-1759
Instructor: Letizia Guglielmo, KSU
lgugliel@kennesaw.edu
Ph: 770-423-6764
Instructor: Lissa Leege, GSU
leege@georgiasouthern.edu
Ph: 912-478-0800
Administrative Contact Information
Students from participating institutions should meet with the study abroad advisor on their campus for more information. Students from other institutions should contact the program office at Kennesaw State University for registration assistance:
Georgia College & State University (GCSU)
Liz Havey
Ph: 478-445-2368
liz.havey@gcsu.edu
Georgia Southern University (GSU)
Danielle Smith
Ph: 912-478-7968
daniellesmith@georgiasouthern.edu
Kennesaw State University (KSU)
Tara McDuffie
Ph: 678-797-2672
trolle2@kennesaw.edu
Valdosta State University (VSU)
Irina McClellan
Ph: 229-333-7410
ibmcclel@valdosta.edu
Visit the Montepulciano, Italy blog spot: montepulciano2013.blogspot.com
Like us on Facebook by searching: Summer Study in Montepulciano, Italy 2013
EDUCATION ABROAD REFUND POLICY & PROCEDURES
APPLICATION DEPOSIT
All application deposits are
non-refundable
, except in the case of:
* Program cancellation by Kennesaw State University
* A wait-listed student who is not added into the program
* A student who has applied to one education abroad program and clearly notifies the Education Abroad Office--in writing and prior to the application deadline--of his/her desire change the application to an alternate KSU program.
Refunds for application fees will be issued in the same form of payment originally used for purchase. Please be sure to retain all account information used for purchase and notify the Education Abroad Office (EAO) in advance if there is a problem with your account. The EAO will not be responsible for refunds sent to closed accounts.
PROGRAM FEES
Upon registration for the KSU faculty-led education abroad academic course(s), the designated program fee, which is
separate from tuition
is charged to the student's account. The student has up to one month to pay the program fee in full, following a specific payment schedule. Failure to pay the program fee in full by the stated deadline may result in deletion from the program.
All program fees are
non-refundable
, except in the case of students who have legitimate, documented medical, (emergency) family or military reasons for withdrawing from a program after paying the program fee. In all cases, the student will only receive recoverable fees, subject to the rules/policies of external service providers. Any such refund will not include the initial application fee and will not be issued until after the education abroad program is completed.
TUITION PAYMENTS
Payment and refund of tuition will follow the normal processes establish by the Offices of the Registrar and Bursar. Students wishing to withdraw from any study abroad program or course must submit their request in writing through the Education Abroad Office.